| | |
| --- | --- |
| | Products |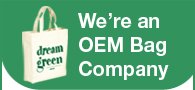 We make bags for companies who use them for promotion and fashion business and their products.
Home >> Corporate Profile >> About us
Ecostitch is a vibrant Indian company dealing with eco-friendly cotton bags and fashion accessories. We are committed towards continuous innovation, consistent quality and environmental concerns. Our endeavor is to provide products and services as per the changing needs and desires of our customer in different times and place. A customer to us is a 'Production Partner' for creating mutual value.

A number of Fortune-500 companies have been our production partner for over a decade now. Ecostitch's Indian origin gives it easy access to a wide variety of cotton materials and other natural fibers. It offers organic and recyled fabric bags with certification. In the last decade, Ecostitch experimented with a wide range of raw materials and sewing technologies. This unique knowledge makes us a globally accepted OEM manufacturer who goes beyond stitching bags and accessories. We stitch relationships.

| | |
| --- | --- |
| Primary Products | Totes, Business & Travel, Sports & Leisure and Aprons suitable for Promotion & Fashion Accessories business. |
| | |
| --- | --- |
| Specialized Products | Certified supplier of GOTS and OE bags, aprons and other products. Bags, apron and other products made from Recyled cotton fabric with certification. |
| | |
| --- | --- |
| Additional Product | Fashion belts from cotton web, prints etc… |
| | |
| --- | --- |
| Minimum order | Conditions do not apply. |
| | |
| --- | --- |
| Design strength | In house designer. |
| | |
| --- | --- |
| Delivery | 4 weeks to 12 weeks depending on the style and the complexity. |
| | |
| --- | --- |
| Sample | Samples will be sent free of cost depending on the quantities and total value using customer's UPS/FedEx/DHL a/c no. |
| | |
| --- | --- |
| Important | This catalogue indicates only some selected products. Our specialization is in heavy canvas bags with process like dyeing, printing, W/R and washing. We are also into patented products like tool bags, chair covers etc. |
We don't hurt the Planet:


Worldwide, plastic bags end up in garbage, breaking down into toxins, severely polluting the soil and the water resources. Ecostitch bags are made of natural fiber, which being easily biodegradable, keep the ecological balance of nature intact.



We're an OEM Bag Company:


We make bags for companies who use them for promotion and fashion business and their products.

We Reach Far and Wide:
We supply to whole-sellers, importers, promotional companies, fashion accessory companies and many more

Our variety to Suit the Customers' Multifarious Personal Expressions:
Cotton bag, Organic bag, Recycled Cotton bag, Heavy Duty bag, Fashion bag, Leisure bag, Promotion bag/Gift bag, other Natural Fiber bag like Jute, Linen etc. We also make fashion accessories to suit the occasion.



Our Bags Help Promote Almost Anything:


A bag is as versatile as one can put it to use. Whether it is to carry an accessory or it is to set a trend in fashion or to simply gift someone, a bag can do anything. It is truly a great combination of style, economy and extreme re-usability.

Our Organic bags:
These bags are made of organic cotton, which is grown using revolutionary eco-friendly, chemically independent and strategic cotton farming. Organic cotton is grown without pesticides, from plants which are not genetically modified. Ecostitch offers organic bags, aprons and other products with a CU certificate.

Our Recyled Bags:
These bags are made from cotton, which comes from approximately 40% discarded cotton which otherwise ends up in landfills. But with revolutionary advanced technology, this discarded cotton can be salvaged and converted into good quality cloth, out of which 100% recyclable bags are made. Ecostitch offers these bags with the Recycled Material certificate.

Our Special Heavy bags:
Made of rough and tough canvas for durability, these rugged bags can be used as tool bags in the field, courier and postal bags and for many other 'tough' applications.

Committed to the cause of environment conversation, Ecostitch offers light weight to super heavy weight fabric bags in the following categories:


COTTON CANVAS
RECYLED
ORGANIC
JUTE BLENDS


Ecostitch has been manufacturing bags for Fortune 500 companies for over a decade!!!!!